North Captiva Fishing
On this page you will see references to the most common fish that you will catch in the waters around North Captiva. The information is derived from The Florida Fish And Wildlife Conservation Commission. For a more exhaustive list of fish.
[Redfish] [Black Grouper] [Red Grouper] [Crevalle Jack] [Spanish Mackerel] [Sheepshead] [Scalloped Hammerhead] [Red Snapper] [Common Snook] [Ladyfish] [Tarpon]
Black Grouper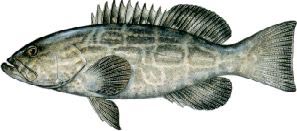 Family Serranidae, SEA BASSES AND GROUPER
Mycteroperca bonaci
Illustrations and Copyright by Diane Rome Peebles
Illustrations are for viewing purposes only.
Description: olive or gray body coloration with black blotches and brassy spots; gently rounded preopercle.
Similar Fish: gag M. microlepis; yellowfin grouper, M. venenosa.
Where found: OFFSHORE species; adults associated with rocky bottoms, reef, and drop off walls in water over 60 feet deep; young may occur INSHORE in shallow water.
Size: common to 40 pounds, may attain weights exceeding 100 pounds.
*Florida Record: no Florida record because of identity confusion with gag, which are mistakenly called "black grouper."
Remarks: spawns between May and August; protogynous hermaphrodites, young predominantly female, transforming into males as they grow larger; larger individuals generally in greater depths; feeds on fish and squid.