North Captiva Fishing
On this page you will see references to the most common fish that you will catch in the waters around North Captiva. The information is derived from The Florida Fish And Wildlife Conservation Commission. For a more exhaustive list of fish.
[Redfish] [Black Grouper] [Red Grouper] [Crevalle Jack] [Spanish Mackerel] [Sheepshead] [Scalloped Hammerhead] [Red Snapper] [Common Snook] [Ladyfish] [Tarpon]
Sheepshead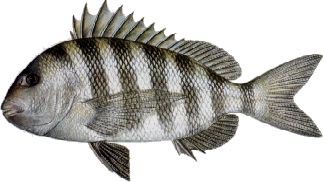 Family Sparidae, PORGIES
Archosargus probatocephalus
Illustrations and Copyright by Diane Rome Peebles
Illustrations are for viewing purposes only.
Description: basic silvery color; with 5 or 6 distinct vertical black bands on sides, not always the same on both sides; prominent teeth, including incisors, molars, and rounded grinders; no barbels on lower jaw; strong and sharp spines on dorsal and anal fins.
Similar Fish: black drum, Pogonias cromis; Atlantic spadefish, Chaetodipterus (black drum have barbels on lower jaw, sheepshead do not; vertical barring on sides of black drum and spadefish disappear as fish mature; spadefish have small, brush-like teeth).
Where found: INSHORE species around oyster bars, seawalls and in tidal creeks; moves NEARSHORE in late winter and early spring for spawning, gathering over debris, artificial reefs and around navigation markers.
Size: INSHORE, 1 to 2 pounds; OFFSHORE, common to 8 pounds.
*Florida Record: 12 lbs., 2 ozs.
Remarks: feeds on mollusks and crustaceans such as fiddler crabs and barnacles; famed nibblers, prompting the saying that "anglers must strike just before they bite."