North Captiva Fishing
On this page you will see references to the most common fish that you will catch in the waters around North Captiva. The information is derived from The Florida Fish And Wildlife Conservation Commission. For a more exhaustive list of fish.
[Redfish] [Black Grouper] [Red Grouper] [Crevalle Jack] [Spanish Mackerel] [Sheepshead] [Scalloped Hammerhead] [Red Snapper] [Common Snook] [Ladyfish] [Tarpon]
Red Snapper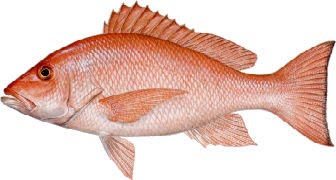 Family Lutjanidae, SNAPPERS
Lutjanus campechanus
Illustrations and Copyright by Diane Rome Peebles
Illustrations are for viewing purposes only.

Description: color pinkish red over entire body, whitish below; long triangular snout; anal fin sharply pointed; no dark lateral spot.
Similar Fish: vermilion snapper, R. aurorubens.
Where found: OFFSHORE on the continental shelf, more plentiful off the panhandle than in south or middle Florida.
Size: to 20 pounds.
*Florida Record: 46 lbs., 8 ozs.
Remarks: juveniles occur over sandy or mud bottoms and are often taken in shrimp trawls; adults may live more than 20 years, and attain 35 pounds or more; sexual maturity attained at age 2; spawns June to October; feeds on crustaceans and fish.